PopCase & PopCase SLIM
for iPhone
ROLE Lead Industrial Designer, PopSockets
it was built into my
the graphic matched my
I had a protective
To successfully meet the wide demands of the PopSocket consumer base, my design had to find the balance between these features/benefits:
1 iPhone 2 TPU bumper 3 PC shell 4 IML film 5 PopSocket
Expand your PopSocket for maximum grip and stand functionality, then collapse into a fully-integrated, pocket-friendly form.
Designed for iPhone 8, iPhone 8 Plus, and iPhone X
1 iPhone 2 TPU bumper 3 PC shell 4 IML film
Go ultra-minimal and keep a slim profile, or bundle with a stand-alone PopSocket to mix and match your style.
Designed for iPhone 8, iPhone 8 Plus, and iPhone X
My first challenge was actually integrating the PopSocket into the case, and it quickly became apparent that these 2 must-have factors for the case would compete directly with eachother:
Pocketablility
case should ramp up to meet the PopSocket and eliminate snagging on pockets
Comfort
fingers should still have enough space underneath the PopSocket for a comfortable grip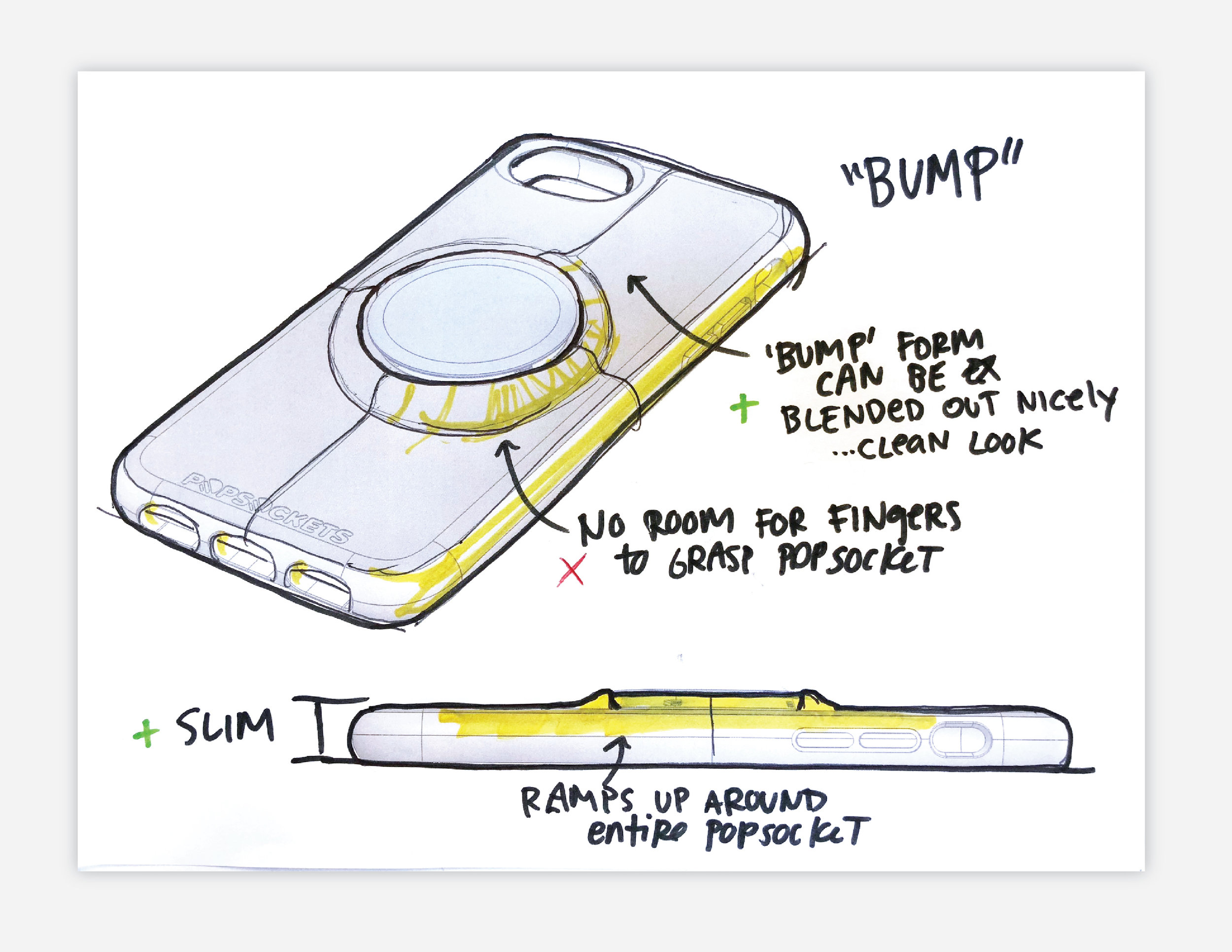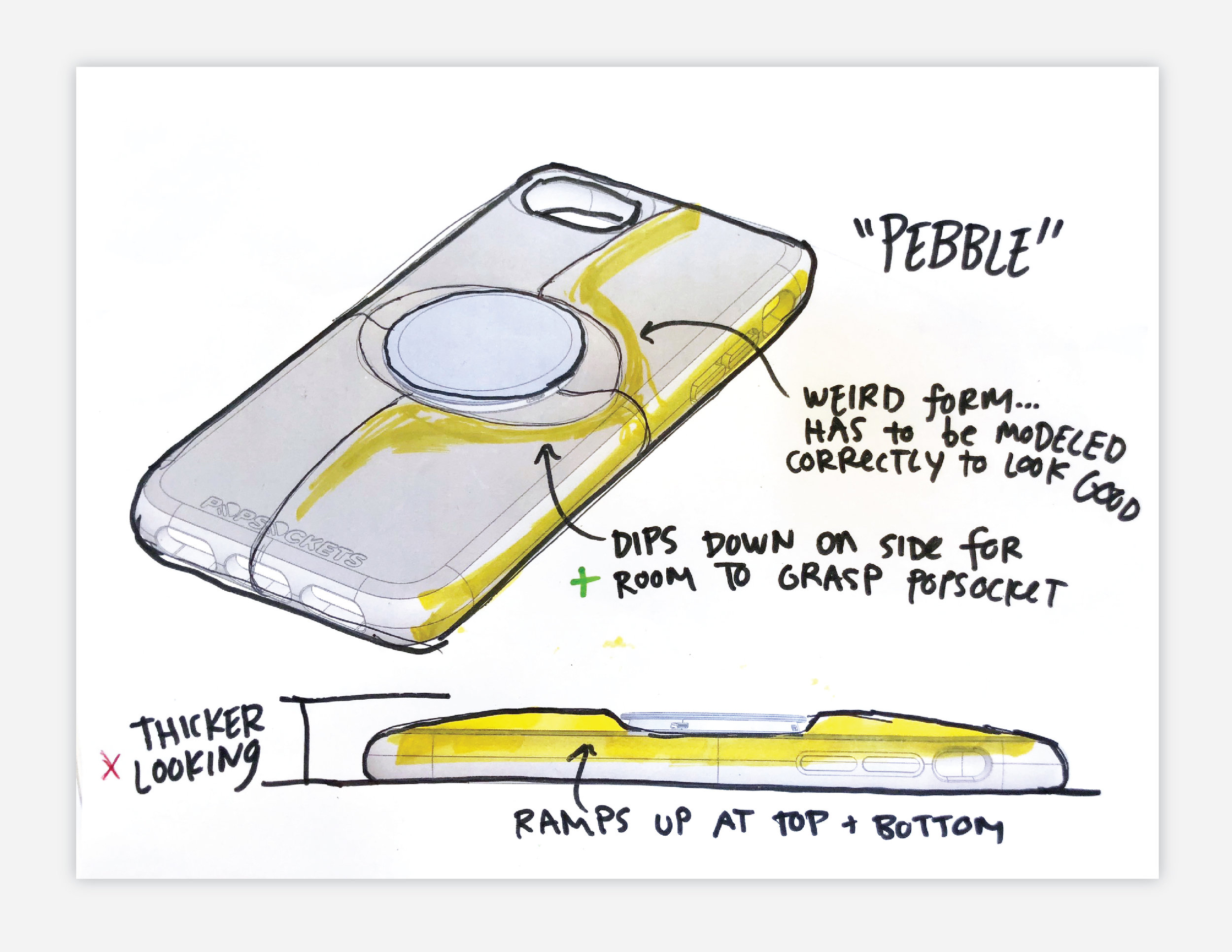 PROTOTYPING To test how pocketable and comfortable a PopSocket/case combo was, I needed to actually feel it in my hands. 3-D printing rough CAD models was the quickest way to crank out as many prototypes as possible. I conducted ergonomic studies with a range of people to get user feedback on the importance of pocketablility vs. finger comfort.
My next challenge would be one that any phone case on the market faces, the inverse relationship between these two factors:
Slimness
case should be unobstrusive to the device and add as little bulk as possible, less is better
Protection
case should provide substantial coverage to keep a device safe, more is better
3-D CAD MODELING The main source of protection against drops and bumps comes from the soft rubber inner layer of TPU, and thickening this layer always means more protection. However, since slimness was so important, I proceeded with an alternate method of maximizing the TPU, which involved removing material to create small ribs, domes, triangular bosses, etc. This resulted in a radial pill-shaped geometry that was playful, impact-absorbing, and patent-able.
TESTING I had the thrilling opportunity to test out different "impact geometries" by destroying a couple iPhones during drop tests. Disclaimer: this video is highly dramaticized and not representative of actual reliability tests. However, it is safe to say this particular design was not pursued..
COLORS, MATERIALS + FINISHES The last challenge for this design may arguably be the most important factor for the PopSocket demographic: is it fashionable? How would I offer a case with the same high-quality graphics found on a PopSocket? Techniques such as pad-printing, UV-printing, and die-sublimation were considered, but ultimately IML (in-mold labeling) was used for its scratch-resistant and metallic capabilities.
MANUFACTURING + ASSEMBLY After the design was finalized, I created an ID Spec to specify everything manufacturing-related: cross-sections and exploded views, assembly/shot-order, tooling action for slides and inserts, parting-lines, locations for gates and ejectors, and materials and finishes. A final tech pack, including this ID Spec and CAD files, was provided to vendors in China to begin the production process.
TOOLING + TRIAL SAMPLES A few weeks and a couple rounds of samples later, the PopCase design was a real product. Trial samples with both clear and opaque materials allowed me to test different colorway combinations, but ultimately it was very likely that a clear and black SKU would be first to launch.
PopCase & PopCase SLIM
for iPhone
PopSockets
Ultimately, for business and marketing reasons, the PopCase design was released by the Otterbox brand as an extension of their Symmetry case series. The PopSockets x Otterbox collaboration was announced at CES 2019.
DESIGN AWARDS
USA TODAY Editor's Choice Award CES '19
Popular Mechanics Editor's Choice Award CES '19
Digital Trends Best Mobile Accessories in Show CES '19
WIRED Magazine's Best Accessory of CES '19